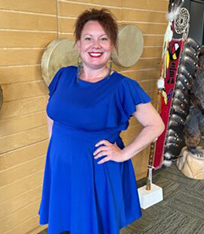 Brittany Ross is a Métis woman and mother of two sons. She was born and raised in Winnipeg, and has spent over 10 years supporting, advocating and mentoring Indigenous students in the adult education, and post-secondary education sectors. Through Brittany's previous experience, she has a fundamental understanding of the importance of creating safe, respectful and positive environments.
Brittany has developed, engaged, and maintained relationships with various stakeholders including; community organizations, school divisions, health professionals, and various levels of government. In addition, she has years of training to aide her in her new position, such as Mental Health First Aid, Indigenous Suicide Prevention, PTSD in Indigenous Adults, to name a few.
As a Navigation Coach within the School of Indigenous Education at RRC Polytech, Brittany is passionate about making a significant difference in student's lives, and connecting with students through her open-minded, empathetic, and caring nature. She loves playing a role in supporting the successes of Indigenous students here at Red River College Polytechnic.